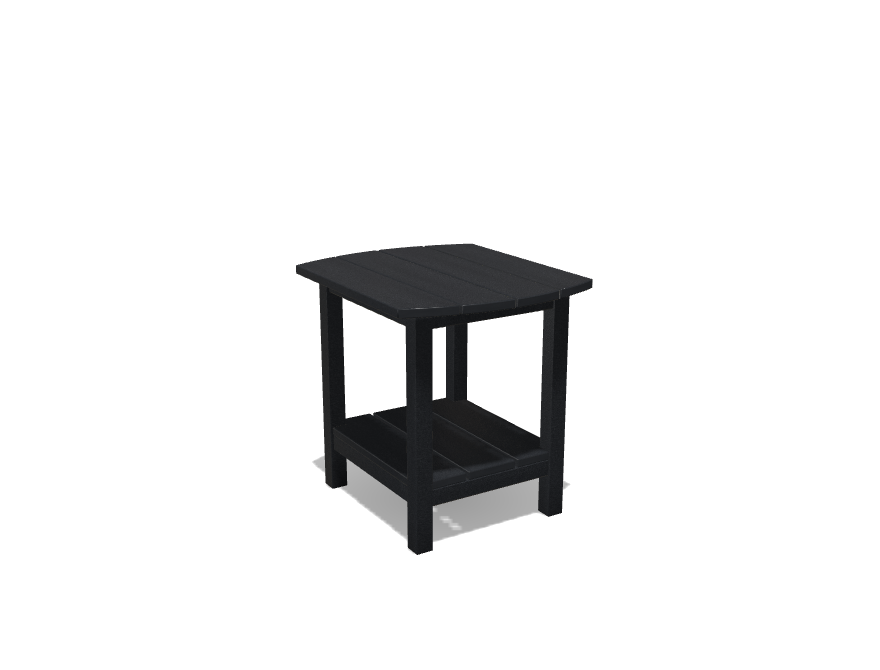 22" Patio Table W/ Shelf
Accent table with a lower shelf for a completed look.
This adorable little table is an upgrade from the 18" side table and features a lower shelf for a wee bit more extra space.  Its maintenance free design accents your outdoor furniture with ease.
Things you may or may not want to know:
Top     18" x 22"
Height 20"
Shelf height   5.5"
Weight  15Lbs.
What we love and you will love too:
Made In Canada

Stainless Steel Hardware

HDPE, Recycled Plastic

Can be used for residential or commercial

Ergonomically designed

A large selection of fade resistant designer colors

Heavy 1" gauge plastic lumber (1/2" used by competitors)

No painting, No slivers, No Rot

Completely waterproof

25 Year Limited Warranty
Specifications
Colours

Black

or

Weathered Wood

or

Sand

or

Sangria

or

Cedar

or

Hunter Green

or

Navy

or

Silver

or

Grey

or

Teak

or

Chocolate

or

Mahogany

or

White

or

Red (Candy)

or

Muskoka Red (apple)

or

Orange

or

Yellow

or

Lime

or

Aruba

or

Sky Blue

or

Blue

or

Prem Textured Birchwood

or

Prem Textured Walnut

or

Prem Textured Antique

or

Prem Textured Driftwood

or

Prem Textured Coastal Grey

or

Custom 2-tone,