(Add) Sectional Corner Piece, Tofino Collection (Add) Sectional Corner Piece, Tofino Collection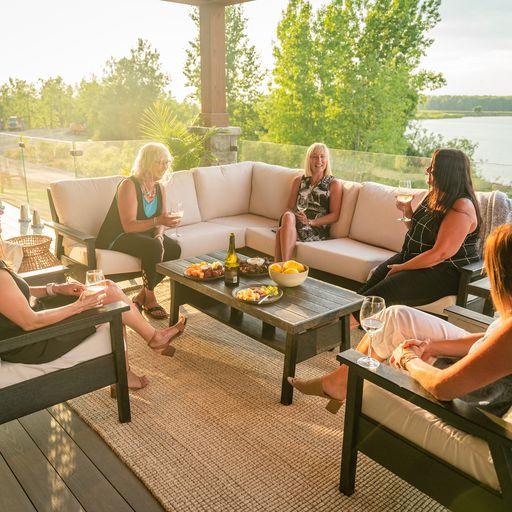 Customize Deep Seating
Add a Corner.
100% Recycled Plastic
Sustainable.
Ontario Made
Support Local.


Island inspired Tofino Collection has been designed with the surf, sand and shores in mind. This new collection features completely molded arms and legs made possible by our unique mold and extrusion process. With no need for indoor storage these pieces will provide years of lasting comfort and convenience. Add our quick ship Sunbrella cushion sets to add the beauty of the beach to any outdoor space! 
The Corner Kit is used to add an additional seat and make a 90 degree angle to your modular deep seating set. Change a sofa and loveseat into an L-shape, etc.
Things you may or may not want to know;
DEPTH - 33"
WIDTH - 33"
HEIGHT - 33"
SEAT HEIGHT - 12"
WEIGHT - 51lb / 23kg
What we love and you will love too:
Made In Canada
No Cracking, Peeling, Painting or Staining Necessary
25 year warranty
Made From 7/8" Thick Heavy Gauge Plastic Lumber
Stainless Steel Hardware
No painting, No slivers, No Rot
Made from UV stabilized pigments
Use them 365 days a year
Can be used for residential or commercial
Specifications
Colour choice

02 White

or

07 Beige

or

14 Black

or

16 Chocolate

or

18 Slate Grey

Fabric

Custom

or

Sunbrella Gateway Coast Box Style

or

Sunbrella Peyton Granite Box Style

or

Sunbrella Raven Black Box Style

or

Sunbrella Canvas Granite

or

Sunbrella Canvas Jockey Red

or

Sunbrella Canvas Navy

or

Sunbrella Cast Ash

or

Sunbrella Cast Breeze

or

Sunbrella Cast Silver

or

Sunbrella Bliss Dew Box Style

or

Sunbrella Cast Charcoal Box Style

or

Sunbrella Bliss Pebble Box Style