DSF262 * Loveseat, Stratford Collection DSF262 * Loveseat, Stratford Collection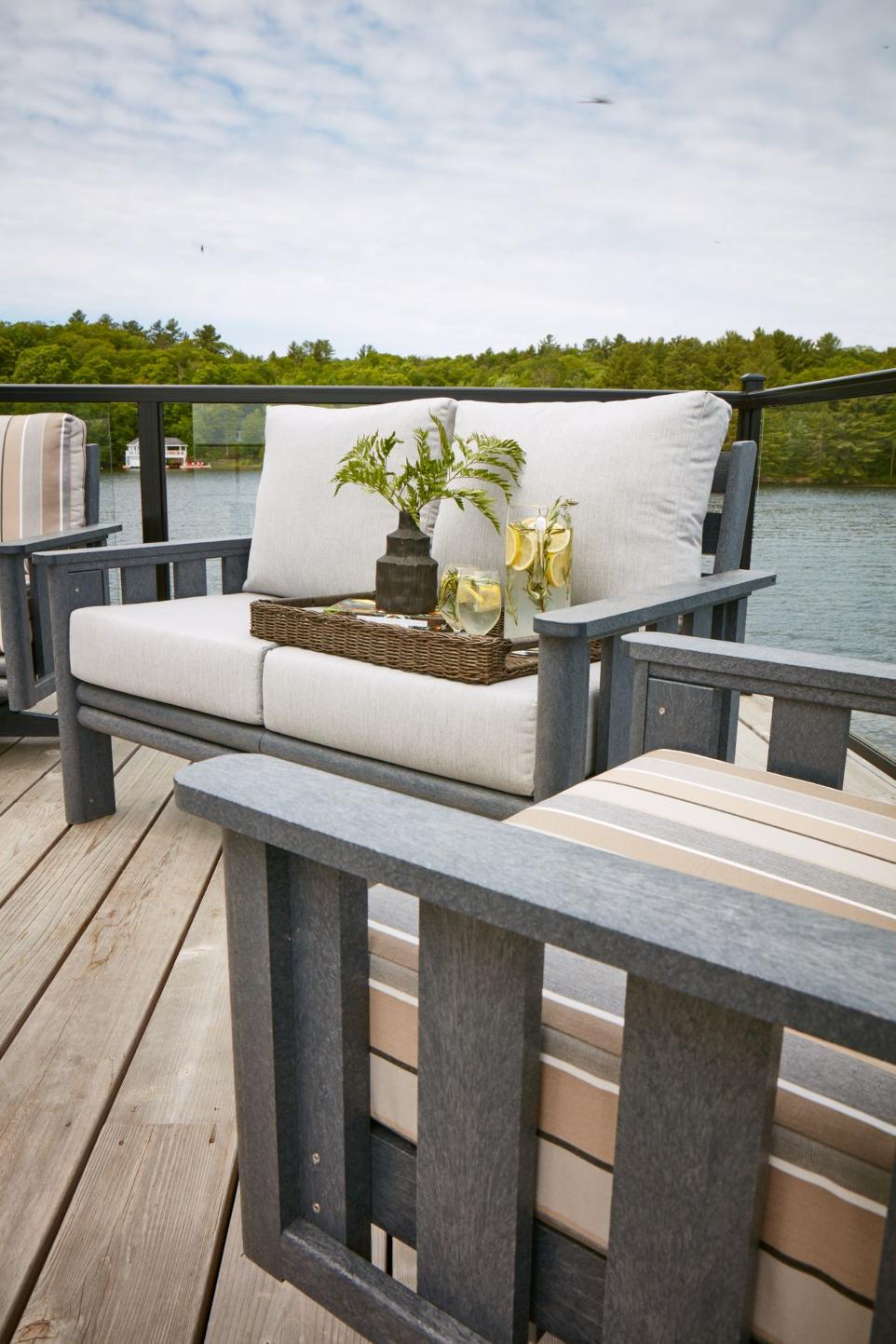 Traditional Loveseat
Take a Load Off.
100% Recycled Plastic
Sustainable.
Ontario Made
Support Local.


Bold - Substantial - Traditional
Completely redesigned for the 2022 season! The Stratford Deep Seating Collection highlights a traditional mission style with a modular assembly, so that you can create a truly custom space. With sustainability at top-of-mind, each Stratford chair is made from 6,469 bottle caps. This is furniture that you can feel good about!
Mix and match. Want to be creative? Send us your idea and we will help you put it together! 

Things you may or may not want to know;
DEPTH - 34"
WIDTH - 55.25"
HEIGHT - 35"
WEIGHT - 112lb / 51kg


What we love and you will love too:
Made In Canada
No Cracking, Peeling, Painting or Staining Necessary
25 year warranty
Made From 7/8" Thick Heavy Gauge Plastic Lumber
Stainless Steel Hardware
No painting, No slivers, No Rot
Made from UV stabilized pigments
Use them 365 days a year
Can be used for residential or commercial

Product Care
In order to maintain the CRP line of products, we highly recommend the following to keep products looking clean and new:
Mr. Clean Magic Eraser,
303® Patio Furniture Cleaner which is specifically designed to clean resin and plastic furniture,
303® Patio Furniture Protectant which is the world's most powerful UV screening product,
Soapy water and sponge.
** WHAT TO AVOID
Pressure Washer. When nozzle is placed too close to the plastic it could chew/fray the plastic leaving a fuzzy look to the plastic and allowing atmospheric dirt and particles to get inside the plastic. Over time the furniture looks dirty and will never clean to its original look.
DISCLAIMER
Due to the differences in photographic processes, the color calibration and resolution of individual computer monitors, furniture colours and fabrics shown on this website may vary from actual product finish. Please visit your nearest retailer to experience accurate colors and textures of our products.
​

Specifications
Colour choice

02 White

or

07 Beige

or

14 Black

or

16 Chocolate

or

18 Slate Grey

Fabric

Custom

or

Sunbrella Zone Eclipse (Premium)

or

Sunbrella Gateway Coast Box Style

or

Sunbrella Peyton Granite Box Style

or

Sunbrella Raven Black Box Style

or

Sunbrella Canvas Granite

or

Sunbrella Canvas Jockey Red

or

Sunbrella Canvas Navy

or

Sunbrella Cast Ash

or

Sunbrella Cast Breeze

or

Sunbrella Cast Silver

or

Sunbrella Peyton Granite

or

Sunbrella Milano Char

or

Sunbrella Bliss Dew Box Style

or

Sunbrella Cast Charcoal Box Style

or

Sunbrella Bliss Pebble Box Style

or

Tempotest Rigato Stripe Smoke Box Style