Set * 8' Fire table w benches & Chairs * Natural Finish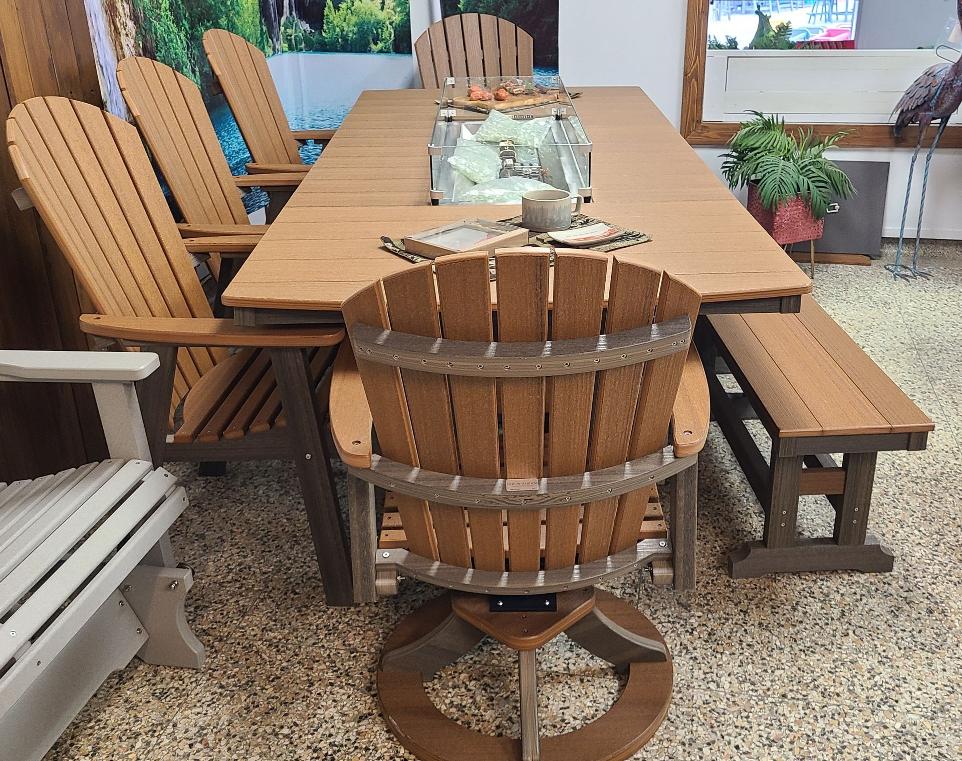 Durable
Resistant to UV and Harsh Weather Climates
Easy to Clean, Mild Soap and Rinse with Water
Variety
Comes in a wide range of colors
Smooth, Natural (textured) or hammered finishes
Propane or Gas
Comes propane ready and easy to convert to Natural Gas
Natural Finish
The natural finish gives the look and feel of real wood without the maintenance
Discover why this is our favorite table of all time! Uniquely crafted with virtually indestructible poly material, stainless steel fasteners, and a top of the line built-in fire feature, this patio table is sure to be your favorite as well! Turn cold conversation into warm memorable time spent with family and friends. Fire feature works with a regular propane tank or easily converts to regular gas to be hard-lined.
Constructed from 100% recycled poly lumber, the Berlin Gardens Elite Comfo-Back Swivel Rocker Dining Chair will not warp, rot or become bug infested. This swivel rocker outdoor dining chair is weather resistant and does not absorb moisture and can be left out all winter long! Handmade in the USA from the finest poly lumber, known for it's durability and quality craftsmanship - relax and enjoy a lifetime of use.
If you're looking for a low-maintenance, long-lasting patio dining furniture, the Garden Classic 44" Bench Dining (GCDB4418) by Berlin Gardens is for you! Garden Classic's traditional, craftsman look and versatile frame design give it a unique visual appeal, while sturdy, all-weather construction ensures lasting performance across the seasons. Whether you're looking for a refreshing pop of color, relaxing earth tones or minimalist basics for your next patio upgrade, this outdoor dining collection is sure to impress at your next gathering. Constructed with PolyTuf™ Lumber, one of the highest grades of poly lumber on the market, this piece is guaranteed to last.

Specifications
| | |
| --- | --- |
| Berlin Gardens | Antique Mahogany on Coastal Gray |