Adirondack Premium Chair, Red Cedar Wood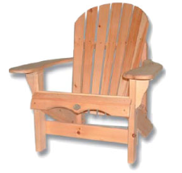 Adirondack Premium Chair, Red Cedar Wood
The Adirondack Chair is the grandest of all chairs with its spacious and contoured seat. Whether you are wanting to chill in the moment or chat with friends, it will cradle and support with unprecedented comfort.

Available fully assembled or in a partially assembled kit.
**Red Cedar Wood can be left natural or you can apply stain.
Things you may want to know:
Height- 38 in
Length- 36 in
Width- 34 in
Arm Height 21.5 in
Seat Height 15.5 in
Weight- 25 lbs
What we love and you will love too:
Made In Canada
Generous 7.5 in arm width
Stainless Steel Hardware
Ontario Cedar
Can be used for residential or commercial
5 Year Limited Warranty